UkulelE
I now offer two body shapes. The Standard Tenor or my new High Waisted Tenor.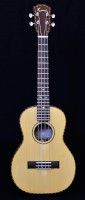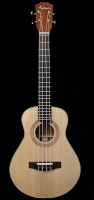 I build both Hawaiian style and California style Ukulele.

Californian style Ukulele have become very popular of late. They are generally more suited to fingerpicking styles or lead melody roles but find favour with the strummers too.

I can offer these instruments in several different wood combinations for the Back and Sides. I have a stock of exotic hardwood that includes Koa, Walnut, Black Limba, Mahogany, T'Zalam and Wenge.

For the Top I have Alpine Spruce, Engelmann Spruce, Sitka Spruce and Western Red Cedar. I will select the top for the instrument depending mainly on the choice of back and side wood but also on the desired tone. Cedar is well matched to Walnut back and sides for a warm, mellow sound for instance.

Hawaiian Style Ukulele are traditionally all hardwood including the top and are generally made from Koa sourced from the Big Island of Hawaii. Good figured Koa is becoming more difficult to source and as a result is becoming very expensive. I have a limited supply of Koa but I will not be buying any more. There are however some very good alternatives such as Black Limba (also known as African Afara or Blackline Korina) which I can sometimes offer along with other all hardwood combinations such as all Mahogany.

The Hawaiian Tenor represents the most traditional sounding Ukulele and is suited to all playing styles.

All my Ukulele are presented with real wood bindings and purfling. I only use Gotoh or Der Jung tuners. The nut and saddle are made from bone. My standard nut width is 36mm with the strings spaced 10mm apart. I do not offer custom nut widths. Strings at the saddle can be spaced at 14mm or 12mm.

Scale length is 17"